Independent agents are a force that P&C carriers cannot ignore.
Independent agents (IAs) represent the largest and most preferred distribution channel serving insurance customers in the increasingly competitive P&C market, writing nearly 58% of all P&C premiums.1 Business conditions for agencies continue to be favorable, with most agencies reporting revenue increases over the past year. Independent agents have continually found ways to stay relevant to customers despite the push toward digital and direct channel solutions. Customers still demand access to their agent, whom they view as their trusted advisor in the purchase and servicing decisions they must make.

Independent agents' satisfaction with insurers is the lowest across any consumer or B2B research that J.D. Power conducts and has one of the lowest Key Performance Indicator (KPI) compliance rates (best practices that have the greatest impact on overall satisfaction scores), according to the J.D. Power 2018 U.S. Independent Insurance Agent Satisfaction StudySM conducted in alliance with the Independent Insurance Agents & Brokers of America.
Overall Satisfaction with Provider:
J.D. Power B2B vs. Consumer Studies2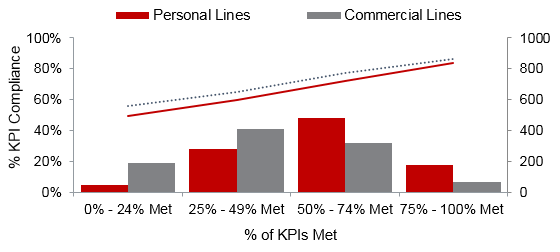 KPI Compliance Rates: IA Personal vs. IA Commercial Lines

J.D. Power Independent Agent Satisfaction Study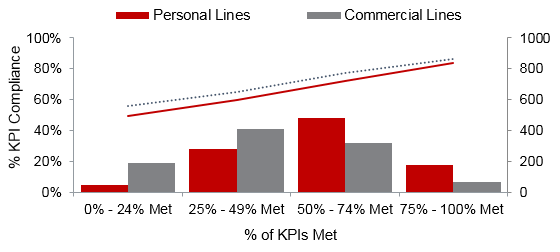 Universally, satisfaction declines as more KPIs are missed on both B2B and Consumer Focused J.D. Power Studies.

Insurers in the Agent Study have much lower KPI compliance rates than most other businesses profiled in J.D. Power studies.
The top five KPIs that personal lines and commercial lines insurer should focus on are concentrated in three factors: Product Offerings & Risk Appetite; Quoting; and Commission. Insurers that focus on meeting these KPIs will be in a better position to post higher levels of IA satisfaction, as well as a more profitable operating ratio and bottom line, and to acquire and retain more customers.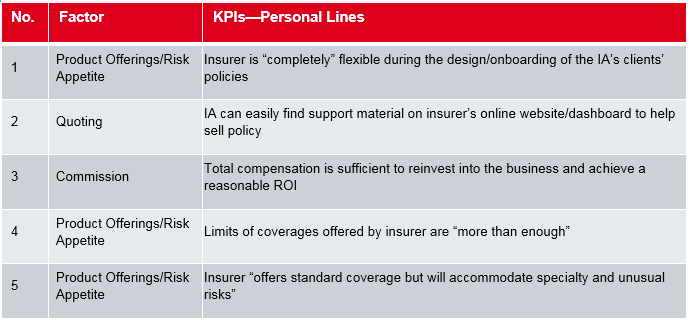 Personal lines insurers with the highest commission ratios also have the highest levels of satisfaction among independent agents and maintain the most profitable operating ratios. Personal lines insurers that provide the most satisfying experience for agents, in addition to the most competitive compensation, are better able to achieve the highest profitability levels. Fostering a trusted advisor relationship between agents and carriers leads to carriers gaining a relationship with the agent's most valued customers and potential customers.
Brand Spotlight

The three brands that have the highest customer satisfaction scores—Auto-Owners Insurance, Safeco, and Travelers—spend the most on their commission ratio, yet they have the best operating ratios of all the insurance brands included in the study.
Key Takeaways

Insurers that focus on their agents' satisfaction can improve their customer retention and acquisition as well as their bottom line. The most important opportunities with respect to KPI improvements are listed below in order of importance.
Improve the ease of doing business with agents to increase sales volumes, customer retention, and overall satisfaction.
Develop more flexible product options with a broader risk appetite to increase market share as insurance sales increase and the economy continues to improve.
Significant opportunity exists to increase cross-sell penetration—with upsides to both insurer revenues and agent satisfaction and commissions.
Carriers with the highest independent agent satisfaction are better able to offer a competitive agent commission while maintaining expense ratio discipline.
The independent agent is a vital component of a carrier's omnichannel strategy, so customers can interact with a brand how they want to and when they want to.
Agent satisfaction is linked to the number of communications and training received from insurers.

1Source: Independent Insurance Agents and Brokers of America, Inc, 2016 Agent Universe Study
2Source: J.D. Power 2017 U.S. Auto Insurance Study,SM J.D. Power 2017 U.S. Financial Advisor Satisfaction Study,SM J.D. Power 2017 U.S. Homeowners Insurance Study,SM J.D. Power 2017 U.S. Large Commercial Insurance Study,SM J.D. Power 2018 U.S. Independent Insurance Agent Satisfaction StudySM