Price and Policy Offerings are key components of auto insurance satisfaction, making up 38% of the overall satisfaction index model J.D. Power has created to measure customer satisfaction with the auto insurance experience1. These two factors are the basis of value for customers.
One metric with a high correlation to Price satisfaction is avoiding an insurer-initiated premium increase. It might be assumed, then, that Price satisfaction is also mainly driven by annual premium amount and the amount of a premium increase. However, the J.D. Power 2019 U.S. Auto Insurance Satisfaction Study finds that metrics pertaining to communication and understanding value are more correlated to Price satisfaction than cost alone. In other words, it is vital for customers to understand what they are receiving for the price they pay.
Price satisfaction is highly correlated to metrics that ensure customer understanding and involve insurers communicating effectively. These often go together. For example, when insurers pre-notify of a premium increase via the customer's preferred method, provide print/electronic communications, and provide an explanation of the policy declaration, if needed, customers are more likely to completely understanding their policy, declaration page, and bill.
When customers completely understand the value they are receiving from their policy and receive proper support and communication from their insurer, Price satisfaction is more highly impacted than when just looking at costs alone.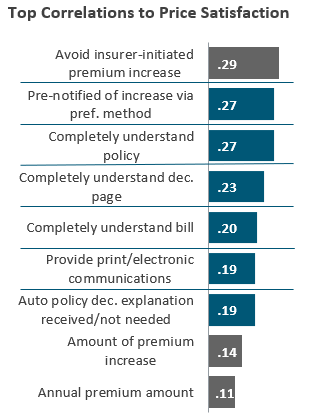 While insurer-initiated premium increases are a necessity, it is important for insurers to be able to effectively manage these situations by understanding what matters most to customers faced with an increase. Overall satisfaction, advocacy, and renewal levels can be maintained despite an insurer-initiated increase. The right mix of clarity and transparency into the premium increase can help a customer look past price to understand value. Insurers should make sure when a customer receives an insurer-initiated premium increase, they also receive print/electronic mailings, are notified in advance of the change through their preferred method, and completely understand their policy. When all three metrics are met, OSAT, trustworthiness, advocacy, and likelihood to renew can all reach better levels than when an increase doesn't occur.
1 J.D. Power 2019 U.S. Auto Insurance Satisfaction Study index model: Interaction (30%), Policy Offerings (19%), Price (19%), Billing Process and Policy Information (18%), Claims (14%)