Major changes predicted to beset the insurance industry are finally here. The transformation from a complex product and face-to-face relationships into a digital, choice-based consumer product is well underway. There is still a place for personal relationships, but their nature is changing rapidly.
We are finally seeing the major direct carriers growing significantly more quickly than agent-based carriers, especially the mutual carriers' exclusive agent models. GEICO remains on pace to overtake State Farm as the top auto insurance carrier. And we can't rule out Progressive becoming the dominant carrier in a matter of years either. While insurance consumption habits are evolving, the vehicles that they drive are also in a state of flux. Advanced Driver Assistance Systems (ADAS) now comprise more than 80% of all new vehicle sales and will become increasingly standard across the U.S. car parc. This will impact everything from distribution to underwriting to claims. All the while, the integration of artificial intelligence into the insurance value-chain offers the promise of new and exciting ways to accelerate and personalize the customer experience.
Understanding the new consumer and vehicle realities is critical in preparing for the new competitive dynamic in the coming decade. In preparation for this shift, we have expanded our research capabilities to include comprehensive, longitudinal analysis from over one million insurance consumer interactions over the last decade. With this enhanced database we can view detailed consumer behaviors and identify trends that are no longer theory, but data-based observations of both consumer and carrier. Based on this data set, we have identified three trends to watch over the next decade that are likely to influence modern consumer preferences in property and casualty (P&C) insurance.
Consumers don't see value in their auto insurance
While many industry-watchers have suggested that commodity-based messaging in advertising has been influencing consumer choice in insurers, our analysis indicates that low perceived value in the product likely plays a larger role.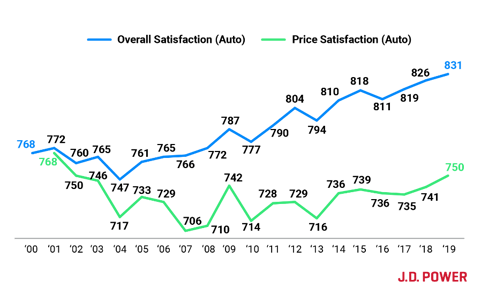 Over the past decade, auto insurance premiums have risen at almost twice the rate of inflation, consuming a larger share of discretionary income and playing an increasingly significant role in household finances. Consumers are generally satisfied with the service levels their carrier provides, but increasingly they see the rate as too high to justify that service. Since 2012, the price factor has increased 39% as a key driver of intent to shop.
Some carriers have been attempting to persuade consumers on agents, product breadth and service delivery, but those that have pivoted toward value have been the most handsomely rewarded by consumers. Carriers that offered the lowest quote price achieve a close rate of 79% compared to overall close rate of just 24%. And this extends across risk segments—preferred customers are shopping to find better value as well.
Perhaps the biggest challenge for carriers is that consumers see less value as time marches on. Exclusive agents are challenged with a lower value perception from the outset and rapidly dip into a negative value perception with tenure. The direct and independent agents offer a value trade-off that wanes less making them increasingly likely to see policy life expectancy increase.
As consumers increasingly take control of the shopping process to find the value they desire, they are finding simple ways to compare carriers. Independent Agents offer multiple quotes and browser auto-fill makes gather several online quotes a job of minutes. Choice reigns supreme and the consumer holds the reigns.
Given the future promise nature of insurance and consumers low value perception absent a claim, they are focusing on the only factor that they can evaluate in the near-term—price.
Brand Consideration Reigns Supreme
Perhaps the most signficant trend over the past decade has been the effect of consumer participation in the insurance process. Consumers now set the terms at which carriers are expected to operate, and that has fundamentally altered how carriers interact with consumers.
Insurance carriers effectively function as consumer brands today. They must do whatever it takes to ensure their message is heard in order to capture the consumer. This is why the category spends more in a single month in marketing than it used to spend annually 20 years ago.
As this dynamic has evolved, the role of psychographics becomes increasingly important in the battle to win new business. Unaided brand awareness will make customers consider that brand at almost two times the rate of a competitor. To drive new business, carriers must have a strong brand reputation—since 2015, the importance of a strong brand has increased more than 50%, from 26% to 40% in 2020, as a key driver of new business acquisition.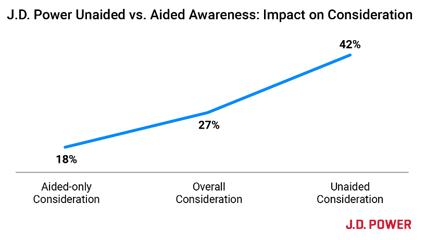 Innovations related to increasing unaided awareness, through such efforts as share of voice improvements, have become increasingly important to capturing new business. 30% of consumers go directly to a brand's website as a first step in the shopping process—whether consumers interact digitally or through an agent, the brand matters.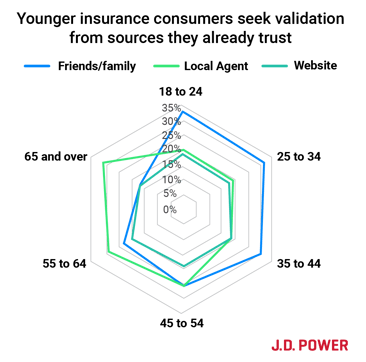 To complicate matters, consumers are getting their brand perception from different sources than they did in the past. Younger customers are seeking advice from people they know and trust through direct experience—friends and family. This happens via word of mouth and via social media channels. Older consumers still rely on the agent to carry the brand. The key question for carriers—is this the new reality? Are you a consumer brand driven by experience-based word of mouth impressions or an advice-driven model built upon an expensive network of agents? Which will deliver the best brand RoI in the future?
Ease of Interaction Becoming Table-Stakes
Insurtech start-up Lemonade is trying to reset customer expectations for ease of doing business through such efforts as processing a claim in less than three seconds. CEO Daniel Schreiber described this achievement with a simple, but telling comment: "Data is overtaking expertise". There is no doubt there's some truth to that and consumers expect their carriers to behave like any other brand they use. The industry is trying to get faster and more accurate. But can it be achieved in way that enhances the consumer value perception?
Carriers that adopt new digital capabilities are not necessarily rewarded for the tech alone. Insurance is a low-touch industry. With only a handful of annual interactions, consumers don't get to assess technology impacts regularly—they can't 'learn with you' by experiencing the evolution of a technology interaction repeatedly to see the value-added (in contrast with something like online check deposit in banking). This means that most insurance technology initiatives must resolve a simple problem, have highly -intuitive user interfaces and work seamlessly the first time they are used. If new tech works, consumers can be delighted. If it doesn't, they are turned off by the poor interaction. Too many poor interactions and a shopper is created. The buy-before-you-try nature of auto insurance rarely allows these types of features to manifest in break-through top-line performance.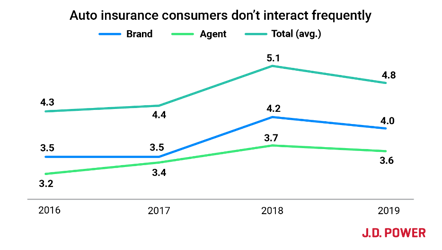 This may help to explain why Insurtechs have failed to significantly "disrupt" the industry. While they are certainly making improvements across the value-chain – from quoting to claims processing – they have not fundamentally altered insurance in the same way that Amazon displaced Barnes & Noble – and therefore, are not achieving similar break-through performance.
But while these enhancements may not lead to higher acquisition rates, they are key part in meeting rising consumer expectations. This is evidenced by the increased rate of shopping among consumers who experience service problems, which nearly doubles for every service issue that occurs. As a result, carriers should undoubtedly continue to pursue tweaks and enhancements to their customer workflows that make it easier and more efficient to interact with them.
What Changes May Come
As insurers continue to crack the code on customer acquisition, retention, and satisfaction, they will undoubtedly need to balance cost optimization with customer experience. And in order to make sure those efforts are not undercutting one another, they'll need to stay dialed into what makes customers tick. In an industry where so much has already changed with more disruption to come, this won't be easy. But for those who are attuned to modern consumer behaviors will be undoubtedly rewarded.