Agent-based carriers still control a plurality of U.S. personal auto premiums, but their advantage is quickly vanishing. Agency distribution faces strong headwinds due in part to increasing competition from direct carriers as a result of changing insurance consumer expectations. Modern consumers have taken control of their insurance relationships, and as result, seek insurance providers that are most able to meet their needs of convenience and value.
Directs carriers have been happily taking share from agent carriers within the personal lines auto market. Over the past decade, direct carriers have taken 7 points of market share from agent insurers. Preferred market IAs have been performing well, while non-standard market IAs and EA carriers continue to lose ground overall. The outsized performance of Progressive's IA channel has largely buffered IA carriers overall from losing significant ground to directs.
The massive growth of direct carriers over the past decade shows that directs have cracked the code to winning consumers. Their low-cost structure and technology capabilities, paired with significant advertising investment, have created a self-reinforcing cycle by which direct carriers can both shape and fulfill consumer expectations for cheaper, easier, and faster insurance. Moreover, direct carriers are winning at a cost advantage—acquiring customers for less—compared to agent carriers. William Blair estimates that 15% of every premium dollar in P&C insurance goes to touching the customer, and agent and broker expenses for agency carriers has increased by 46% from 2006 to 2018. Net expenses for agent carriers are nearly two times higher than directs, indicating agent carriers have a significant cost disadvantage.
Agent-based carriers will need to adapt or face irrelevancy within this new competitive dynamic. Three key industry trends have placed agent-based carriers at a disadvantage and threaten the traditional agency value proposition, for which they must find answers.
Consumers are Demanding More
Auto insurance shoppers are placing a greater importance on having more services provided to them today versus five years ago, highlighting the fact that shoppers are increasingly demanding more options and more ways to connect with insurers.
The importance of having access to policy information online has increased considerably over the past five years (+24%) and has become the most important feature shoppers want from their insurer.
If these trends continue, over the next five years the importance of access to policy information online will be almost 2x greater than agent representation.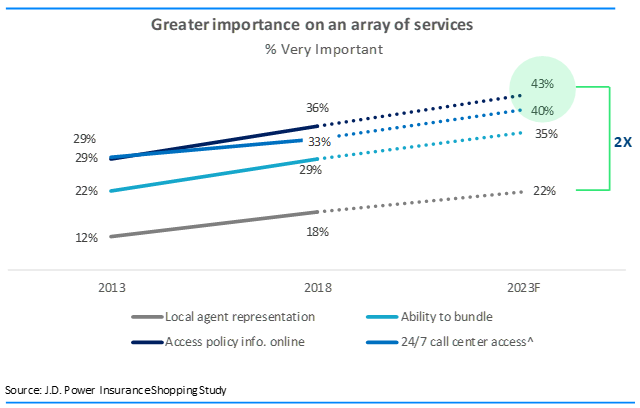 Directs Channels Are Closing the Performance Gap
Insurers are getting better at meeting these customer needs for faster, easier and cheaper insurance solutions. Servicing through direct channels, for instance, is improving and converging with agent channels due to better direct capabilities and system integrations. This executional proficiency is making it easier for customers to interact with insurers by allowing them to service on their own terms—when and how they want. Since 2010, insurers have improved satisfaction by 111 index points in the web channel and by 63 index points in the call center channel. As a result, agents no longer have an advantage over direct channels in terms of servicing—a key loss to the traditional agent channel value proposition.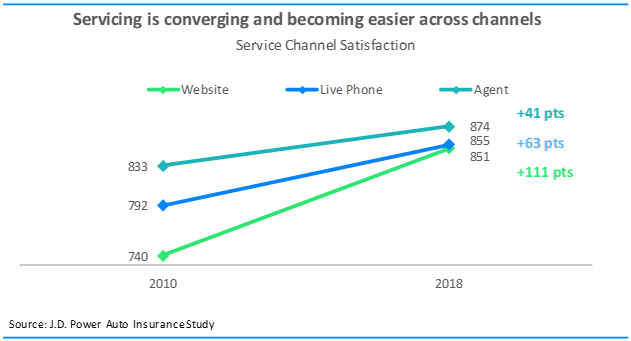 Consumers are Becoming Less Dependent on Agents in the Sales Process
Twenty-five years ago, insurance was a slow-moving industry based on agent-driven distribution—agents were the tip of the spear for reaching consumers. Fast forward to today, where distribution is a broader, multi-channel modality that enables the value chain—customers start with a brand and, based on their need, will then use a specific channel to meet their need. In fact, J.D. Power research shows that consumers are relying more on brand and price during the purchase process and less on agents. Brand gets a shopper into the sales funnel, but a competitive price is necessary to get a shopper to purchase. Direct insurers have spurred on this trend and are well-positioned to meet customer expectations, evidenced by investment in advertising to promote brand, offering lower rates, and improving executional proficiency.
At the same time, the importance of distribution channels—agent, web, and call center—in the sales process has declined to record lows, giving rise to the greater importance of price and policy offerings.
In the future, consumers expect to depend on agents less. In a recent survey conducted by J.D. Power, more than three in four (76%) consumers believe the number of agents will either stay the same or decrease over next 10 years.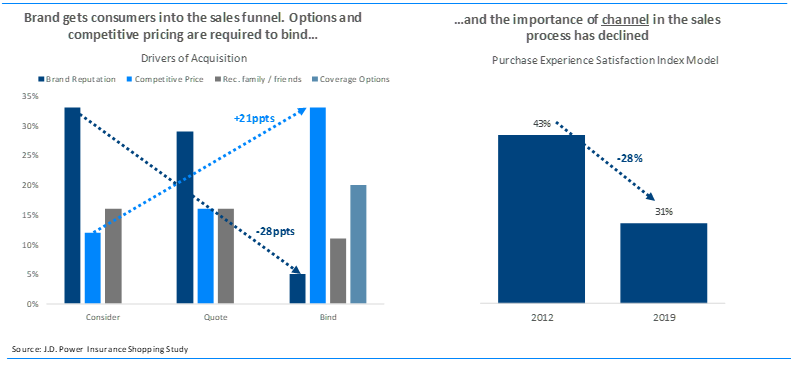 Implications
Expectations of modern insurance consumers have evolved, and agents must adapt in order to overcome the headwinds faced by the traditional agency model. Agents will need to find new and different ways to provide value to consumers to survive in today's competitive environment. Understanding what may strengthen and sustain agency distribution in the short- and long-term will be critical for the viability of agency distribution. If agent-based carriers fail to adapt, direct carriers will continue to take share at the expense of agent-based carriers.