If you are responsible for or simply involved in creating, implementing, or managing an operational or technology/digital strategy for a P&C Insurance Carrier, this article is a must read.
If you are responsible for or simply involved in creating, implementing, or managing an operational or technology/digital strategy for P&C Insurance Carrier, this article is a must read. Today's insurance organization is facing a significant and rapidly changing environmental transformation that is not technology oriented, but rather rapidly evolving customer expectations. The empowerment of customers is the most significant change to face the insurance industry in decades. Most insurance organizations have historically built operational and technology plans around a few core tenets: 1) increasing sales (market share and growth); 2) improving retention; 3) increased persistency; and 4) increasing effectiveness and efficiencies (less cost)—all with the ultimate goal of hitting an ROE/ROI target. These plans always had the customer as a key stakeholder, but the customer was more the outcome than the basis for the plan. This approach was certainly sufficient for many years, but in today's world the strategy must begin with a very different foundation, which is, what does the customer truly want? Without creating a strategy that focuses on the customer, any plan will ultimately fail because today and even more going forward the customers are taking greater control over who and how they want to interact with their business partners. Customers are more demanding with respect to companies providing them with a personalized and customized experience throughout the entire customer journey. This empowerment comes with the growth and expansion of such online shopping experiences as Amazon and Wish; highly personalized online/digital services such as Expedia or Uber; the availability of immediate feedback, whether it's 24 hours news, Facebook, or Tweeter; and even highly focused advertisements based on individual online searches. These new ways of customers interacting with products and services is affecting every industry, regardless of whether it is high touch or low touch: customers are looking for similar experiences. Companies cannot hide behind regulation, infrastructure, or even low-touch interactions as ways to avoid personalizing and customizing the customer experience.

Building a customer-centric strategy requires a different way of thinking about what is truly important to customers. No longer can insurers or agents think they know what is important to their customers or build a plan that might be expedient for the insurer without considering their customers. It is no longer sustainable for an insurer to build operations or technologies that might be vital to the internal efficiencies of the organization but adds no value to their customers. Carriers will still need to have highly efficient systems that support non-customer-facing processes, but the core systems of any insurer (i.e., policy, claims, billing, and sales systems) must be built around the customer experience. Building a customer-centric strategy requires understanding the customer beyond their loss experience, location, age, gender, financial conditions, and vehicles driven, among other demographics. This information is necessary to fulfill a variety of internal requirements but is only half what an insurer needs to know now about their customers.

Insurers must expand their understanding to be able to satisfy their customers emotionally, socially, and culturally. Since insurance is a "must-buy" product for most customers, the reason they buy the product is straightforward; however, why they buy a particular insurance company's product is not so obvious. Not understanding a customer beyond their risk profile is not going to drive success for insurers going forward; rather, if insurers don't fully understand the "soft," or emotional, needs and expectations of their customers, the carrier will ultimately lose the segment. In fact, in a recent survey, by 2020 the customer experience will overtake price and product as the key brand differentiator.1
Going forward customers are more likely to look for vendors or service providers that match their social and emotional needs. Even though customers want a great price, they also want the best product and want to feel their insurer meets their lifestyle, their social status, and their sense of well-being. Customers are willing to pay 45 times more for a great customer experience vs. a poor customer experience.2 Going forward, every insurer will need to build strategies that are highly focused because it will be nearly impossible to meet the high level of customer expectations in each insurance segment and industry. Without understanding customers beyond their risk profile, insurers that start down any type of transformational path will generally spend way more than they need to; will have a product that doesn't necessarily enhance the customer experience; and, in the long run, will likely have to look at another transformation in a few years because they will not have achieved the returns planned for the investment made in the transformation. Furthermore, carriers that do not get this transformation right will be those that fall into the M&A world as a target for takeover.

So why is understanding the customer in a much boarder sense so important? Consider something as simple and straightforward as the development of a photo app for claims. Assume an insurer develops a robust photo application process, and in so doing, it creates an enhanced first notice of loss application to go with the photo app that it then integrates into the claim management system. After going through the pilot stage without clearly understanding its whole customer population, the insurer finds that its general customer doesn't like taking photos or entering information into phone app because the insurer's customers are closer to retirement age than customers closer to owning their first car. This example seems very straightforward and something that probably should have been recognized early in the process; however, findings of the J.D. Power 2017 U.S. Auto Claims Satisfaction StudySM showed that older customers didn't like taking photos and uploading a picture to their insurer, and no customer group, regardless of generation, liked filing their first notice of loss digitally; yet, nearly every auto insurer was actively working on both. Investing in photo applications and a digital FNOL application in this scenario would not have only not achieved the improvements in the customer experience, but also may have had an adverse effect on the insurer, as staffing and budget improvements would not have been accomplished using these self-directed tools. Thus, in this scenario, not only would the insurer have lost on the technology investment, but also on the internal disruptions caused by a failed strategy to both the financial and HR sides of the organization. This finding doesn't mean that, ultimately, this insurer won't need both a photo app or a digital FNOL option, but had this carrier understood its customers more fully, the operational or technology strategy it created would have possibly used its resources more effectively and the technology or operational improvements it had funded would have offered a higher return on the investment made.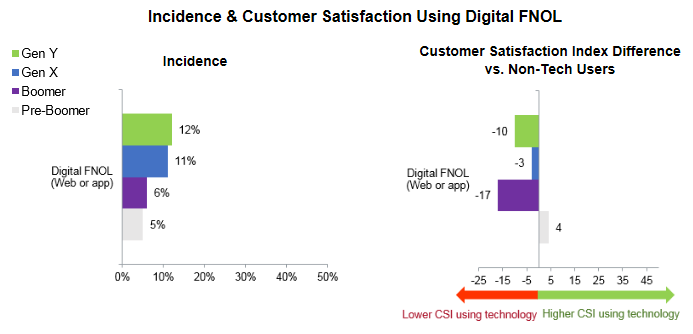 In the end, insurers need to spend just as much time understanding their customers as they do understanding their own business. The paradigms that have driven strategic plans, whether operational or technological, throughout the industry need to be torn apart and redesigned with the customer at the center of everything they do. Just as important, insurers during the pilot or testing phase of any strategy need to look for the flaws in the strategy based on true customer feedback and not on some internal matrix designed to prove the concept. Developing a strong independent feedback system that is focused solely on the customer is one of the strongest planning tools a carrier can deploy during the development and pilot stages in order to guard against institutional bias. In the long run, using an independent source for customer satisfaction can pay great dividends with fewer failed strategies.

Customers are going to force the industry to listen to their needs far beyond anything the industry has seen in the past. The real question, then, is whether the industry is going to listen.


Sources
1The Future of Customer Experience: Top 10 Trends for 2018 and Beyond (Infographic): Mary Shulzhenko, Product Support, LLC; December 28, 2017
2The Future of Customer Experience: Top 10 Trends for 2018 and Beyond (Infographic): Mary Shulzhenko, Product Support, LLC; December 28, 2017