With more than 75% of P&C customers using digital service providers, such as Amazon and Netflix, insurers can be certain that a high bar has been set in terms of digital interactions. What do insurers need to be doing to respond?
Digital service providers, such as Amazon and Netflix, have irreversibly influenced consumer expectations and preferences. They have ushered in an era in which successful companies are providing products and services that are relevant, easy, timely, and – increasingly, personalized. With more than three-quarters of P&C customers using digital service providers, insurers can be certain that a high bar has been set in terms of digital interactions that ultimately shape their customers' perceptions and expectations.

Forward-thinking insurance carriers have now begun to focus on improving their digital customer interactions through enhanced personalized service and offerings. The more closely aligned insurance offerings and customer needs are, the more likely inefficiencies in the marketplace will be resolved, to the mutual benefit of customer and carrier. Further, customers are increasingly coming to expect that their interactions with a carrier – whether through the products and coverages offered, or by way of the channels by which they interact – will be specifically personalized to them. Insurers will have to meet those expectations through expanded choice and services.
Tailored Customer Experiences

The J.D. Power 2018 Insurance Digital Experience Study (IDES) reveals that insurers are falling short in providing customers with relevant and personalized digital experiences. According to the study, conducted in partnership with Centric Digital, 42% of insurers do not meet best practices related to digital cross-channel personalization. This may include knowing the customer across channels, tailoring products and offerings to meet their unique needs and, anticipating what potential customers may need and want.
Cross-Digital Personalization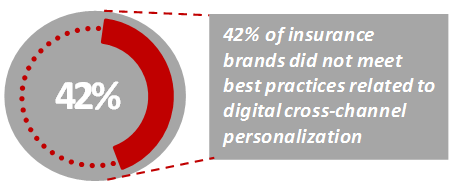 Source: J.D. Power 2018 U.S. Insurance Digital Experience StudySM
A decade ago, pre-fill was the solution for providing a tailored digital shopping experience. For shoppers this sped up the quote application and reduced unexpected premium changes. Today, 67% of new-buyer shoppers who purchased on an insurer's website say the insurer accurately used personal information to populate the quote application.
The Table Stakes for Insurers are Set

Insurers need to ensure they are first and foremost proficient in providing an omni-channel experience. This includes an ecosystem of digital offerings, such assisted online; responsive or mobile-optimized websites; and mobile apps. Whether customers need to confirm a price change or make a payment, they want to select the channel that best suits the task. When servicing tasks are simple or routine, customers prefer to execute these via their insurer's website, yet when tasks are more complex and may require the guidance and support of an expert, customers prefer an agent.

While digital channels, primarily insurer websites, continue to be a leading choice among today's shoppers for obtaining quotes and researching and gathering information, shoppers still heavily rely on agents for quoting and recommending insurers. These findings underscore the importance of providing shoppers with an array of channels and illustrates the need for insurers to develop digital capabilities that support the rest of their business functions, not replace them.
Digital Offerings for Acquisition Yield Greater Satisfaction
Shoppers are happier when connected digitally. Shoppers who use emerging digital offerings for quoting are more satisfied with the quote process than shoppers who use traditional channels. Therefore, having digital capabilities as part of an omni-channel strategy is imperative to customer experience and creating loyal new customers. Shopper usage rates of these digital offerings are low, however. This may be partially due to a lack of awareness among prospective customers, or the fact that some insurers do not provide these offerings to prospective customers for shopping-related activities.
Channel Dynamics: Quote Satisfaction vs. Shopper Usage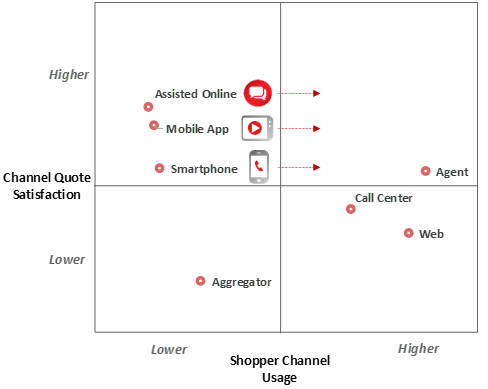 Source: J.D. Power 2018 U.S. Insurance Digital Experience StudySM

The bright spot for insurers is that digital proficiency has improved notably over time. Over a five-year period, satisfaction with the quote experience has increased by 42 points among shoppers quoting via insurer websites and 56 points among shoppers quoting via aggregators sites. Those who use their insurers mobile app for quoting are the most satisfied with their quote experience.

With Amazon and insurtech companies setting the pace for personalization, insurers will increasingly be expected to provide tailored digital experiences. If not, insurers will be ripe for disruption.