Customer preferences and expectations for interacting with their home insurance provider are shaped by other interactions in their daily life. Companies like Uber, Netflix, and Amazon Prime have not only changed the competitive landscape for their respective industries, but they have also changed the way customers expect to interact with a company—including their homeowners insurer. New data from the J.D. Power 2017 Home Insurance StudySM finds that customers who have used such digital services as Uber are not only the most likely to be using home tech, but they have also come to expect these types of features to be integrated with their home insurer.

This represents an attractive opportunity for insurers, as customers seeking convenience with smart home features are nearly twice as likely to say they "definitely will" purchase all insurance products with one insurer than those who are not using them (52% vs. 30%, respectively). The data also indicates a growing demand for smart home technology as the next generation becomes an increasingly larger portion of an insurer's book of business. Online access to policy information continues to be a top KPI, and it's intuitive that smart home features keep customers digitally connected. However, the study finds that home tech is a greater driver of multichannel engagement, which leads to the highest levels of customer satisfaction.
Smart Home Benefits for Consumers and Insurers
Key Benefits for Consumers
Smart home protection features such as remote monitoring and alerts
Better access to loss prevention and secure home features
Greater access to policy information for better understanding
Convenient channel to ask questions and get information
Potential access to additional discounts
Key Benefits for Insurers
Real-time consumer data from smart home technologies
Attractive market that over-indexes in cross-sell and bundling
Increased engagement leads to higher customer satisfaction and greater chance of policy renewal
Cost-effective channel for informing customers about changes to the policy or premiums
An additional method for receiving billing alerts

Digital Experiences Outside of Insurance Shape Preferences

Smart home features are not the only digital services changing the ways customers expect to interact with their insurance company—their preferences and expectations are being shaped by a variety of other interactions outside of financial services and insurance. Nearly three in four (74%) homeowners have used at least one, if not several, digital services such as Netflix, Amazon Prime, and Uber.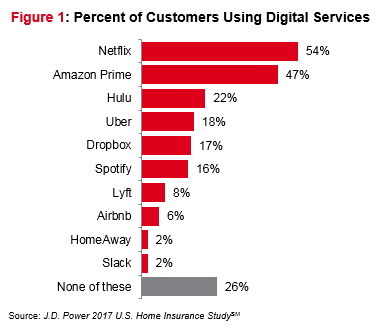 Convenience Is Key to Smart Home Value Proposition

These digital experiences are rapidly changing customer expectations because they meet one of the unchanging needs of the customer—convenience. The desire for convenience is also clearly changing insureds' habits, as customers who have used at least one of these digital services are twice as likely to have smart home features in their home (Figure 2). Further, customer use and interaction with home tech and smart home features are only expected to accelerate over time as the next generation of digitally native customers become an increasingly larger proportion of insurers' books of business.
Home tech increases engagement between the customer and their insurance company and promotes both online and offline interactions, and insurers that can successfully align low value/transactional interactions with digital channels and high-value/high-touch interactions with costlier live channels can promote an omnichannel experience that truly drives the highest levels of customer satisfaction (Figure 3).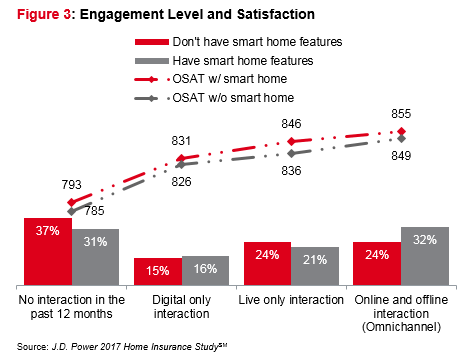 Benefits of Increased Engagement for the Insurer

Increased consumer engagement clearly benefits insurers as well through higher levels of customer satisfaction, which leads to increased renewals and also deeper relationships—meaning more value per customer for the insurer.

Smart home features have the potential to become an important interaction channel in an industry with limited consumer touch points. Emerging technologies such as voice assistants give insurers the unique opportunity to be more top of mind by having a presence in their customers' living rooms.

Further, customers with smart home features in their home have significantly higher satisfaction with price, which continues to be the single area of the customer experience with the lowest levels of satisfaction. Connecting cost to value is a real challenge for home insurers given the limited number of interactions throughout the year, so the ability to increase engagement through an additional, yet subtle, interaction channel can help customers measure their satisfaction with price against the value they are getting from their insurer rather than against cost alone.