I have an agent? What do they do?

As digital service channels advance and evolve into legitimate service channels, interactions, specifically with agents, look a lot different than they used to. Even the way customers think about agents has changed dramatically leading some customers to questions their role in the digital age. All this leads to a shocking statistic: 14% of customers with an exclusive agent have never met their agent either in-person or over the phone. That figure jumps to 19% among customers with independent agents which begs the question… Do customers still value agents?
Over the past 20 years customers have become increasingly less likely to see value in having an agent relationship. Access is really the pivot point. When customers were provided access to insurance digitally their reliance on 'professionals' diminished. The rise, acceptance, and adoption of online quoting, access to information, digital servicing, and even digital claims processes all contribute to less consumer reliance on agents to access auto insurance. The trends today somewhat mirror the disruption in the financial advice industry roughly 25 years ago when online trading platforms, such as Scottrade, began to attract a significant share of investors. Feeling the upheaval, the industry was forced to ask itself what the future held for financial advisors. As a result, firms and financial advisors tailored their products and services to focus on more affluent clients with complex needs and shifted their value proposition from investment management to financial planning. We are beginning to see similar shifts in the scope of services offered in insurance, particularly with respect to independent agents, and there are certainly customer profiles who continue to extremely value their agent-customer relationship.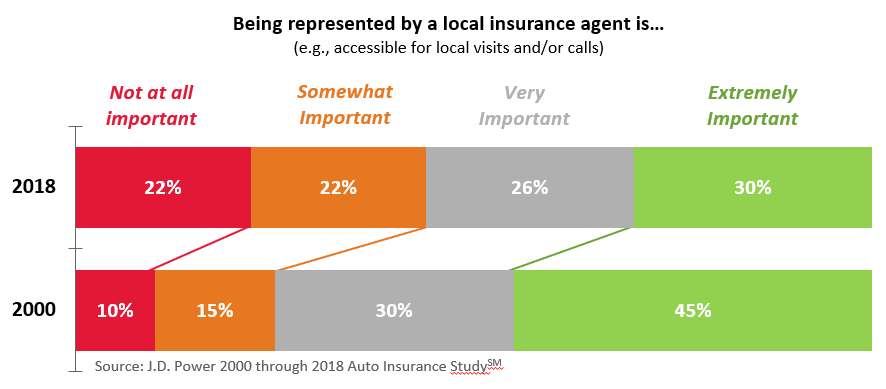 How much of the agent-customer relationship is being reconsidered? When customers do engage with their agents they are significantly more satisfied than customers who do not. That said, the overall auto insurance market has seen the perception of agents being "extremely important" decline from 45% in 2000 to just 30% in 2018. Even among customers with either an exclusive agent or independent agent today, the future predicts greater headwinds as the perceived value of agents declines dramatically among younger generations who represent the future majority of any book of business. Making matters worse is the growing proportion of customers who have never interacted with their agent either in-person or over the phone. The reduced reliance on agents is a function of technology and convenience: It is much easier for a customer to go online to get a quote, pay their bill, get their proof of insurance than it is to call, let alone, visit a brick and mortar office.
Take retail banks for example. Customers' interactions with their bank have changed dramatically over the past 10 years; much of which has occurred just in the past three years with the pervasive adoption of mobile check deposit. Customers no longer need to visit a branch (high effort) to deposit a check but are able to make deposits from anywhere using the camera on their smartphone (low effort). That monumental leap in convenience to customers was such a significant value proposition it fueled the previously slow growth in mobile app adoption and led to mobile becoming not only a legitimate service channel for banks but the dominant one. As for the tellers inside those branches customers no longer must visit for trivial tasks, their jobs elevated to focus on sales, high-value customer interactions, and advice. Agents must do the same to add value to customers and remain relevant in a market where digital access and artificial intelligence are not only accepted as the norm but preferred by customers for their convenience and often greater results.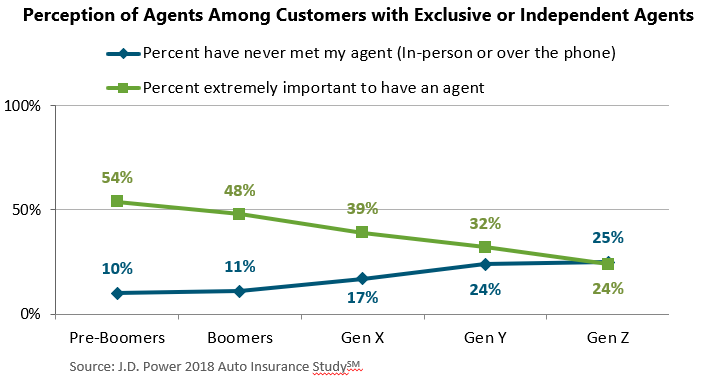 So where can agents add value? The good news is agents that get the relationship right are doing well; 74% of all independent agents reported growth in the past year. When executed, agents add value to customers through their professional advice and customers are willing to pay for it. There are several tasks customers would prefer not to do digitally which include, among others, price and policy coverage conversations, billing questions, and, to some extent, obtaining a new quote for a policy. The sales process is really one of the key moments of truth for customers where agents and professional advice are critical. Data continues to show the majority of customers obtaining quotes online but closing with an agent or over the phone because they need the validation of a professional to ensure they are getting the policy that is right for them. Similarly, while it may not be a pleasant conversation, agents should take the lead on advising clients of the reason for premium increases; framing it in such a way that customers understand that a bumper today costs a lot more than a bumper five years ago and their insurer needs to be in a position to make good on their promise of paying a claim should they need to. Becoming the trusted advisor to customers rather than simply the face in the picture they see on the website will pay dividends both for agents and the insurer in terms of product penetration and commissions, customer retention, and referrals.
Stay Tuned: The 20th anniversary of the J.D. Power Auto Insurance Study,SM publishing this June, will examine, in detail, how the role of agents has changed and identify those moments of truth where agents add value to the customer relationship.