For today's consumers, digital channels have become their preferred choice when shopping for auto insurance. While top insurers have struggled with converting these online shoppers to new customers on their website, they may have found a solution: digital chat.
Digital chat—live messaging capabilities that offer assisted engagement on insurers' websites—gives prospective customers an easy, efficient, and convenient way to interact on insurance company websites.
Channels Shoppers Used for Obtaining Quotes and Website Visits1

Findings of the J.D. Power 2017 Insurance Shopping StudySM show that satisfaction with the website quoting process was higher among prospective customers who used a digital chat feature when obtaining a web quote than among those who did not use the feature. Further, those same prospective customers who used chat when obtaining a quote were more likely to buy online than those who obtained quotes online but did not use live chat. The fact that chat can significantly improve an insurer's conversion of shoppers from quote to purchase should either validate digital strategies for insurers that offer chat capabilities or provide a wake-up call for insurers that do not offer chat capabilities.

Chat is an effective tool within the website channel because it creates a one-stop shopping experience for prospective customers by providing assistance to reduce friction points that would otherwise cause prospects to leave the online sales process. It allows shoppers to ask questions and seek advice as they navigate the online purchase process, and it can be especially effective for simple questions or issues, such as understanding policy jargon or confirming the online price quoted, that can be easily resolved with the help of virtual representatives.

The reduction in operational costs by offering assisted chat via websites is also a key benefit to insurers. Those that have adopted chat have demonstrated their success in driving online quotes to online purchases by using chat without having to involve other, and often more expensive, sales channels.

However, chat also creates an opportunity for a "warm hand-off" to other sales channels when shoppers cannot purchase on the website or when they need additional assistance—a particularly important feature for agency-based insurers that often do not offer all the functionality that direct-based insurers typically offer on their websites. Given that consumers are only actively shopping for a short period of time before making a purchase, the ability of a carrier to keep that shopper engaged by leveraging their digital chat capability increases the likelihood they will purchase a policy from that insurer through other sales channels.
Impact of Chat on Web Close Rates2
(conversion rates among shoppers who quoted in web channel and closed in web channel)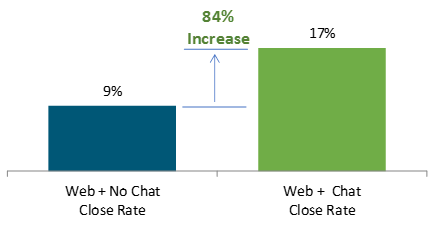 Many other industries have had success in offering a digital chat/assisted online capability. Numerous large retailers, banks, financial service institutions, and auto manufacturer websites today have a chat feature, and for good reason—consumers are increasingly expecting a simple, efficient, and accessible interaction on websites, and assisted capabilities such as web chat aid in creating a one-stop shop experience for them. In fact, credit card and retail banking customers are notably more satisfied when they use their financial institution's chat feature to resolve a service contact compared to those who do not use the chat feature.

What's Next?

Insurers have begun to implement assisted online in various ways, including offering chat with virtual agents and robo-agents. Some insurers are even offering assisted online to shoppers using mobile devices. However, insurers have been slow to adopt such features, with most not offering it at all. Just 8% of the shoppers who obtained quotes through an insurer's website also used assisted online. As consumer adoption grows and companies roll out new digital offerings, insurers need to make sure their digital offerings are keeping pace with and meeting the expectations of their customers and prospects alike. Innovators that promise strong digital capabilities may be well-positioned to fill the gap left by insurers that are slow to adopt. Looking to the future, J.D. Power expects there will be:
Greater adoption: Given the positive benefits to customers and insurers, digital chat capabilities will likely become table stakes in the years to come.
Greater sophistication: Maintaining the competitive advantage will be critical as insurers continue to grow their digital capabilities. Insurers are partnering with Insurtech companies to enhance their digital offerings, using AI or machine learning to enhance chat capabilities and more.
Greater role for agents: With the widespread use of digital channels, repurposing resources from the agency channel to the online channel may be a key channel strategy for some insurers.
Greater expectations from consumers: As sophisticated digital companies like Amazon push the envelope of their digital capabilities, consumers will likely expect more from digital channels for both sales and servicing interactions.

1Source: J.D. Power 2017 Insurance Shopping StudySM
2Source: J.D. Power 2017 Insurance Shopping StudySM