The following is the third excerpt from our upcoming post "Are personalized auto insurance rates driving shopping behaviors?" Read parts one and two of the series.
When we analyze several years of customer behavior, we see three tactics that carriers can employ to deliver a personalized experience while minimizing the impact of shopping behaviors initiated by rate changes. The most impactful tactics we observe are to:
Align customer expectations to underwriting philosophy (or vice versa)
Ensure customer communications are aligned with expectations
Enable a higher level of customer control
In part 2 of our series we explored the first tactic above. Now we dive into tactic 2:
Ensure customer communications are aligned with expectations
Brand and marketing messages set customer relationship expectations, but once consummated, execution is required to deliver on the promise. Purchase channel is a strong indicator of the type and quality of communication, policy understanding and problem-solving service expectations of the customer. Satisfaction is heavily dependent upon successful execution of these parameters, especially when rate actions are taken. The single largest factor in rate change communication is the lack of communication—a full 20% drop in price satisfaction and 15% in overall satisfaction. Failure to deliver results in shopping.
In the agent channel, the fall in satisfaction and subsequent shopping is most acute. Customers expect a service where agents work on their behalf to manage rates and coverages. They expect pro-active outreach and explanation when rates change. Independent agents have the added burden of needing to understand the broader market, why rates are changing, and then to pro-actively shop for the best deal on behalf of the customer.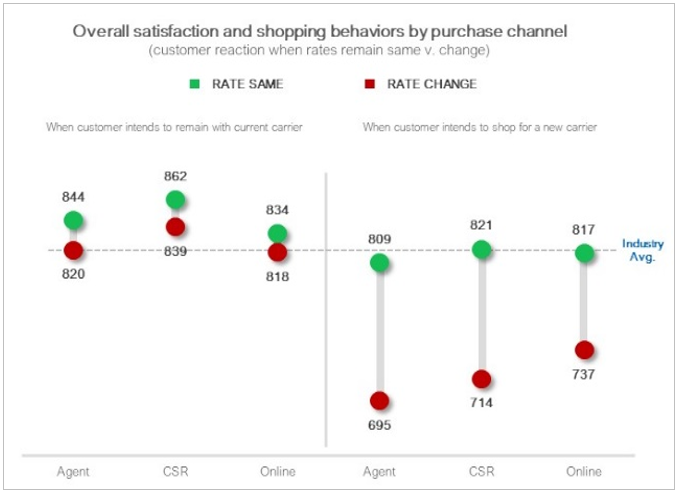 This is a significant challenge for the agent-based carrier with frequent and broad rates changes. Most customers haven't interacted with their agent for more than 12 months. Expected communications likely aren't happening. This execution gap drives price satisfaction volatility and increases shopping in agent-based channels.
Therefore, when rates do change it is critical for the agent to take action. Market lore implies that one shouldn't 'poke the bear' and proactively reach out to discuss with customers. There may be some truth to this—more than 30% of customers don't know their current rate or look at their statement frequently. However, for the 70% that do and of that 30% who randomly check, not communicating a rate change drives the largest drop in satisfaction (see figure 1) and is a precursor to increased shopping.
To reduce rate change shopping impacts, it is critical agents have the tools to identify impacted customers, know why the rate is changing (individual v. market risk factors) and to pro-actively reach out. Upon contact, advice which provides options to minimize rate impact such as increasing deductibles, altering coverage, finding new discounts or shifting drivers among vehicles are some ways that agents can increase policy understanding and help customers find a rate that keeps them with their current carrier.
Independent agents have some advantage over the exclusive agent because they can do all the above, but they can also shop alternative carriers for a better rate if mitigants prove inadequate for the customer's rate expectations. For either agent, it is critical that they are informed of pending rate changes and provided the tools and information to manage their clients effectively.
Direct channels carry different expectations more aligned with acquiring a product in the form of a future service promise. Call centers are inbound only and digital channels are mostly passive. There is a lower expectation of a pro-active service offering, but still an expectation that these channels provide policy explanations and options to mitigate rate changes.
For the direct carrier, surmounting the challenge is scalable and therefore, in some ways, easier to meet customer expectations. Call center operations can deliver uniform messages to large numbers of customers simultaneously. Strong communication between underwriting and call centers should alert the latter when rate changes are expected; identifying impacted customers in advance, explaining rate changes and providing word tracks which can be deployed rapidly at scale across the book. Further, a set of standard options—increasing deductibles, changing coverages, finding additional discounts—can be provided to call center representatives to ensure that customers have options to mitigate rate impacts. The scalability of the call center operation ensures rapid action can be taken to minimize churn. In an 'accurate' pricing carrier with consumerist messaging, this is a powerful tool to manage retention while maximizing rate action. Satisfaction is less volatile as a result.
The strategic imperative for all carriers is to ensure that customers receive a service aligned with their initial expectations. The underlying requirements to reduce shopping by delivering customer satisfaction are similar across channels, but the ability to execute on those requirements is vastly different and can significantly impact retention. A hard look at rate change communication effectiveness and scalability will become increasingly important as carriers seek rate competitiveness.
Stay tuned for our next post where we explore tactic three: enabling a higher level of customer control.