The P&C insurance industry is experiencing unprecedented change and potential for disruption. Customers are empowered in the shopping and servicing of their policies like never before. Customer experience leaders from outside of the insurance industry, such as Amazon and Netflix, continue to set a high bar in terms of digital interactions and increasingly shape customers' expectations that impact how they view their experience with insurance providers.

Compounding the issue, the personal lines auto industry is facing an uphill battle in terms of profitability and the market is tighter than ever with just 2% of new customers entering the personal lines auto insurance market in 2017.

The challenge for personal lines auto insurers is how to navigate the changing landscape and adapt to these macro industry trends without losing sight of what drives customer satisfaction. Based on our recent study of auto insurance shoppers, we've identified five mega trends that the industry will need to address as they tackle this rapidly-changing marketplace:
The era of consumer‐centric insurance
Rising consumer expectations
Maximizing the digital experience
Insurtech and alternative insurance models
Directs are winning the purchase experience battle

The Era of Consumer‐Centric Insurance
Consumers are empowered like never before, and, as a result, insurance companies have few options but to battle for their business. With less than 2% new consumer entrants each year, growth often requires taking share from a competitor. This puts a huge focus on differentiation and conveying value. Companies must look to their brands and communicate what value they can bring that competitors cannot. Put simply, insurance carriers are now functioning as consumer brands and they must find ways to attract and retain customers by differentiating themselves in a crowded marketplace. Two of the fastest growing carriers, GEICO and USAA, have experienced impressive growth by delivering on a clear value proposition to their chosen segments of the insurance market.

So far, advertising has played a key role in this effort. Advertising spend has increased by a staggering 62% over a ten‐year period, signifying a long‐term shift towards a consumer‐centric marketing approach that is focused on communicating brand value to consumers to win their business.

Market share in personal lines auto segment is increasingly being consolidated among the top insurers. Today, the top 10 insurers in terms of market share write 72% of all business in the industry, compared with just 64% in 2000.

These market share leaders consistently spend more on advertising than their competitors, underscoring the impact that heavy advertising spend and consumer‐centric marketing have on winning new business.

Rising Consumer Expectations

Overall customer satisfaction with their insurance purchase experience is at an all‐time low of 839 (on a 1,000‐point scale) according to our recent Insurance Shopping Study. This is attributable to declining satisfaction across key factors that drive the Purchase Experience Index.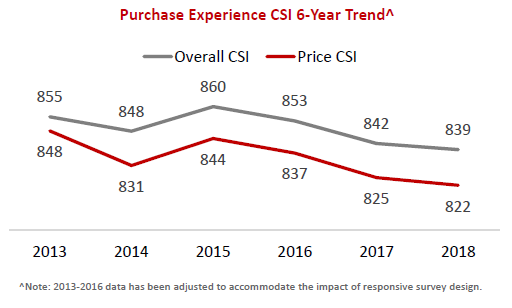 With the shift away from channel‐based relationship building and toward more agile customer engagement across channels, study findings show that new‐buyer customers are most influenced by the value proposition of the total insurance company. Price continues to be the most influential factor in driving customer satisfaction in the purchase experience index (36% importance weight), yet it is the lowest‐scoring single factor in the study. For many customers, the value proposition has never been clearly explained or the tools and resources required to understand premiums are inadequate.

The other major factor influencing auto insurance customer satisfaction comes from outside the insurance industry. Digital service providers, such as Amazon, Netflix, and Uber have irrevocably influenced consumer expectations and preferences, and have ushered in an era in which successful companies are providing products and services to consumers that are relevant, personalized, easy, and timely. Despite significant tech investment, the auto insurance industry has been playing catch-up with other consumer-facing industries on this front.

Maximizing the Digital Experience

With consumers empowered like never before and expecting greater access and more personalized touch points, insurers need to ensure they are proficient in providing an omnichannel experience. This includes an ecosystem of digital offerings, such assisted online, responsive or mobile‐optimized websites, and mobile apps.

Shoppers who use digital offerings during the shopping experience are more satisfied with the quote process than shoppers who use traditional channels. Assisted online, for instance, is only used by 6% of shoppers, yet the average quote satisfaction among these shoppers is 773—62 points higher than quote satisfaction among website shoppers. Notably, this "people plus digital" solution currently yields the highest satisfaction with the quote process.

Insurers are falling short in terms of providing customers with relevant and personalized digital experiences. According to Centric Digital, 42% of insurers do not meet best practices related to digital cross‐channel personalization. With Amazon and insurtech companies setting the pace for personalization, insurers will increasingly be expected to provide tailored digital experiences, or be disrupted by someone who does.

Insurtech and Alternative Insurance Models

Insurtech companies—those who use technology to innovate insurance practices—have raised over $7.1B globally since 2012 and have increased funding by 42% from 2016 to 2017 according to CB insights.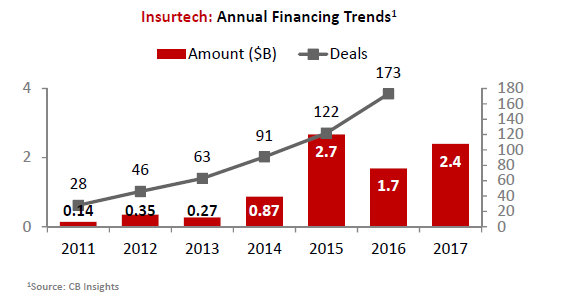 The primary focus of insurtech is on enhancing incumbent or traditional insurers' value chain rather than disrupting the value chain, which presents partnership opportunities for incumbent insurers. Moreover, the focus on innovation for addressing common customer pain‐points provides a model for how incumbent insurers may enhance their current practices.

According to our study, awareness of at least one alternative insurance provider is still low (6% of prospective customers), which suggests that these innovators are still in the very early days of having a tangible impact on the market. However, younger customer segments have greater awareness than their older counterparts— customer awareness among Millennials is nearly double the overall rate (11% vs. 6%, respectively).

With the rise in VC backed funding and its focus on disrupting the insurance value-chain, smart insurance carriers will seek opportunities to engage these start-ups as an extension of their innovation efforts.

Directs Are Winning the Purchase Experience Battle

Although overall customer satisfaction with the purchase experience is at an all‐time low, direct insurers have accelerated customer experience efforts over the past two years and have higher satisfaction scores than their agency‐based counterparts in 2018.

Overall satisfaction among shoppers who purchased insurance from companies that primarily sell directly to the customer is 846. This compares with a score of 842 among shoppers who purchased insurance from companies that primarily sell through independent agents and just 834 among those who bought from insurers who primarily sell through exclusive agents.

Direct insurers have the highest score in the price factor and the call center and website sub-factors, and they also have the highest score in the policy offerings factor. Ease of obtaining a policy and competitiveness of discounts offered are two attributes in which direct insurers outperform over agent‐based insurers in 2018. Ensuring customers understanding their coverage also is an area of strength for direct insurers this year.
Summary

There's never been a more competitive environment for auto insurers in the battle to win and retain business. A combination of record-low volumes of new insurance shoppers, rising consumer expectations, consistent price competition among insurers and emerging "insurtech" disruptors on the horizon have forced auto insurers into aggressive customer courtship mode.

Twenty-five years ago, insurance was a slow-moving industry based on regulators and an agent-driven distribution channel. Today, the speed of change is accelerating and insurance carriers must respond to these evolving mega-trends in order to compete and win.